Updates from the field – by Tamara Lungu
This mail was sent direct from the TTN Ministries ministry team on-site in Africa.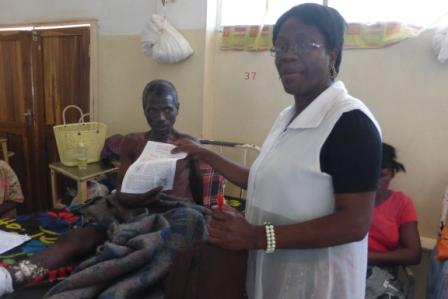 ---
Logistics
Distance to Ministry
Within Kabwe
Cost
N/A
Type of Ministry Church Planting
Hospital Ministry
---
Results
How is the Family?
By the grace of God mum and dad are fine.
I thank God that I have been given an opportunity to participate in AFMIN School (African Leadership Ministry). It is a distance learning course. We come together twice in a year – in March and August. This will be for a period of 4 years at the end of which I will graduate with a degree in Theology.
Number Saved?
By the grace of God 80 souls were saved
Number Healed?
By the grace of God out of 1862 admitted 1706 got healed.
How many on the ministry team?
We are still 30 committed members
What next for this Outreach?
We continue with Sunday ward ministry.
Monday – Thursday we undertake ward follow-ups
Wednesdays we have lunch hour fellowship with members of hospital staff
Saturday we continue with home visitation to people who have been discharged
Testimonials
A lady in Ward 1 (Female General Ward) who was attending a spiritualist Church had congestion in the chest. After giving her life to Jesus Christ she was healed and discharged the next day. We have advised her to find a Gospel believing Church which she accepted.
A Jehovah's Witness lady in Ward 2(Female Gynae Ward) had fybroids. After giving her life to Jesus Christ she had a successful operation and the wound recovered very quickly.
A man in Ward 6 (Male General Ward) was suffering from Asthma. After giving his life to Jesus Christ he was relieved immediately of his asthma attack.
A man in Ward 9 (Male surgical ward) walked in front of a train whilst drunk and his leg was severely crushed and amputated. After giving his life to Christ the wound healed very quickly
A student in Ward 9 (Male surgical Ward) had a dislocated knee due to a football injury. After giving his life to Christ the knee went back to its position and he went home rejoicing
---
Requests
Financial Requests
Monthly Stationary – K 200
Monthly talk time – K 150
Monthly support – K 1000
Prayer Requests
We continue to need God's wisdom and knowledge in order to be effective in the ministry.
Please pray that God would meet the needs of the patients and their relatives whilst in hospital.
Please pray for continued unity among the members of the ministry team and members of staff
---
Misc
Notes:
We continue thanking God for our Brethren – TTN Australia, TTN Zambia and Operation Lift for both their prayer and practical support
The pictures above show a man in Ward 9(Male Surgical Ward) who had a leg fracture. After I encouraged him and prayed for him he gave his life to Christ and his fracture healed within a few days (far more quickly than expected)
The other picture shows another member of the hospital ministry praying for a woman with lower abdominal pains in ward 2 (Female gynae ward) After giving her life to Christ she was healed instantly