Updates from the field – by Tamara Lungu
This mail was sent direct from the TTN Ministries ministry team on-site in Africa.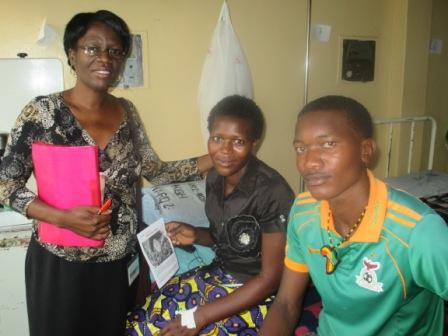 ---
Logistics
Distance to Ministry
Within Kabwe
Cost
N/A
Type of Ministry Church Planting
Hospital Ministry
---
Results
How is the Family?
God has been gracious, even as we are almost ending the year. Dad and mum are doing so great of course by the grace of the Almighty God!
On the 1st December 2014 I begin 1 months leave.
Number Saved?
235 souls got saved by the grace of God
Number Healed?
Out of 1000+ souls 800+ were healed
How many on the ministry team?
We have 30 committed members
What next for this Outreach?
We continue with Sunday ward outreach, Mondays to Friday ward follow-ups and Saturdays home visitation to patients who have been discharged.
We are also planning a half day of prayer and fasting for the ministry members of staff and families – to take place on the 2nd Saturday of December.
Testimonials
An 82 year old man by the name of Agrison Lupiya in ward 9 (male surgical ward) who could not walk or urinate for one month due to a complications in the urinary tract. After giving his life to Jesus Christ he was healed and went home rejoicing.
A young woman by the name of Margaret Kalasha in ward 2 (female gynae ward) who could not walk properly due to lower abdominal pain. After giving her life to Jesus Christ she was healed and discharged the following day.
An 18 year old woman by the name of Naomi who's 2 year old child was in ward 8 (children's ward) due to stiff legs. After the mother gave her life to Jesus Christ the baby was healed.
A 40 year old woman by the name of Beatrice Chisenga in ward 7 (female surgical ward) who had a terrible back ache for 2 weeks. After giving her life to Jesus Christ she was healed and didn't need the operation!
---
Requests
Financial Requests
Monthly office stationary ……… K 200
Monthly talk time ………………… K 150
Monthly support …………………. K 1000
Prayer Requests
God's wisdom and supernatural knowledge
Unit to continue in ministry
God to meet patients needs both whilst in hospital and also once discharged
God to take us to another level in our ministry at the hospital.
God to provide a vehicle for effective ministry.
---
Misc
Notes:
Indeed we continue thanking God for the support we receive both spiritually and physically from our brethren Operation Lift Australia, TTN Australia and TTN Zambia.
May the Almighty God add more years to your lives and those of your families. We also wish you Gods blessing in this Christmas season
The photos above show: 1) Margaret Kalasha in ward 2 with her brother and sister Tamara , 2) Agrison Lupiya seated with sister Mary and two visiting sisters from O.M