Updates from the field – by Tamara Lungu
This mail was sent direct from the TTN Ministries ministry team on-site in Africa.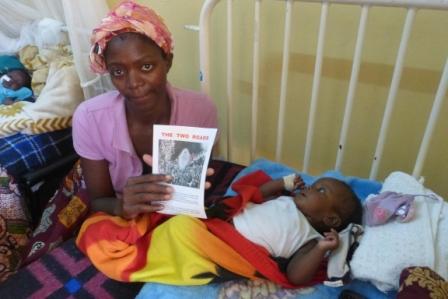 ---
Logistics
Distance to Ministry
Within Kabwe
Cost
N/A
Type of Ministry Church Planting
Hospital Ministry
---
Results
How is the Family?
Dad and Mum are doing very fine by the grace of God. One of my brothers who wedded last year are blessed with a baby girl who was born on 28th October 2014 when our beloved late president his excellence Michael Sata passed on.
Number Saved?
190 got saved by Gods grace
Number Healed?
Out of 1000 plus admitted 900 plus got healed by Gods grace
How many on the ministry team?
We have 30 committed members
What next for this Outreach?
We continue with Sunday ward outreach, Mondays to Fridays ward follow-ups Saturdays Home visitations to patients who are discharged.
Testimonials
A 50 year old woman by the name of Saphint in Ward 2( female gynae ward) who had stomach ache and a terrible headache for one month. After she gave her life to Jesus Christ she was healed and discharged.
A 25 year old man by the name of Royd Konda in Ward 9 (Male surgical ward) was badly burned after the wife poured hot cooking oil over him because he came home drunk. After giving his life to Jesus Christ the wounds healed quickly and he was discharged.
A 15 year old girl by the name of Chewe in Ward one (female general ward) who had a high fever. After giving her life to Jesus Christ she was healed and discharged the following day.
A 73 year old Muslim lady by the name of Susan in ward 2 (Gynae Ward). She had a lot of fluid which was causing the belly to swell up. After giving her life to Jesus Christ she got healed and went home rejoicing.
A young woman called Precious in Ward 8 (children's ward) whose five month old baby had difficulties breathing due to congestion in the chest and who as breathing through an oxygen cylinder. After the young woman gave her life to Christ the child was healed.
---
Requests
Financial Requests
Monthly office stationary —————- K 200
Monthly talk time ————————- K 150
Monthly Support ————————- K 1000
Prayer Requests
Gods Wisdom and Knowledge
For God to meet patients needs both in the hospital and once discharged
For God to provide a vehicle for effective ministry
For the Unit to continue in Ministry
---
Misc
Notes:
We continue thanking God for the support, both Spiritually and practically, we receive from our Brethren: TTN Australia, Operation Lift Australia and TTN Zambia. May God continue blessing you and your families.
The first of the three photos above shows Precious (last testimony) with her baby
The second photo shows Suphnet (First Testimony) and Sister Tamara in Ward 2
The third photo shows Royd (second testimony) with Sister Mary and two brethren from OM Zambia