Updates from the field – by Tamara Lungu
This mail was sent direct from the TTN Ministries ministry team on-site in Africa.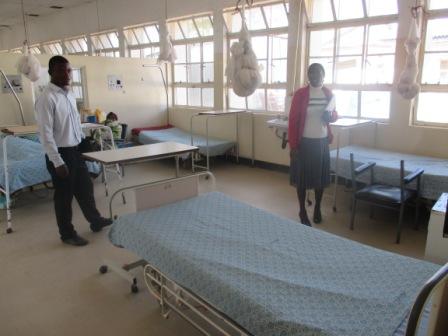 ---
Logistics
Distance to Ministry
Within Kabwe
Cost
N/A
Type of Ministry Church Planting
Hospital Ministry
---
Results
How is the Family?
By the grace of God we are all well.
I had a lovely birthday on the 8th June – celebrating with friends and family.
Number Saved?
By the grace of God 132 patients were saved
Number Healed?
Out of 1693 admitted 1470 were healed and discharged by His grace
How many on the ministry team?
We are 30 committed members
What next for this Outreach?
We continue with Sunday ward outreach and ward follow ups on Mondays to Thursdays.
We also continue lunch fellowship with members of staff each Wednesday and home visits to discharged patients on Saturdays as required.
Testimonials
A young lady in ward 4 (labour ward) who was assigned for a cesarean. After giving her life to Jesus Christ she had a normal delivery, giving birth to a baby girl. Mother and baby are doing well
A young boy in ward 9 (male surgical ward) who had fractured his left leg whilst playing football. After giving his life to Jesus Christ he had a quicker recovery than doctors had expected.
A young Jehovah's witness woman in Ward 1 (Female general ward) who'd had congestion in the chest for 3 weeks. After giving her life to Jesus Christ she was quickly healed.
A young lady – also in ward 1 – had a fever for 3 days. After giving her life to Jesus Christ she was healed the following day.
---
Requests
Financial Requests
Monthly stationary – K200
Monthly talk time – K150
Monthly support – K1000
Prayer Requests
Please continue to pray for God's wisdom and knowledge for us and that unity would continue in the ministry
Our desire is that patient's needs are met, both whilst in hospital and once they are discharged. Please pray for this financial and practical support to be available.
Please also pray that people would be directed to Gospel believing churches.
---
Misc
Notes:
The above picture shows a ward which had been full of patients the previous day (Sunday). After we prayed for everyone this is what met us on Monday afternoon. Practically all the beds were empty because patients had recovered and been discharged!!! Praise be to God!!!!
We continue to thank God for the prayer and support offered by TTN Australia, Operation Lift and TTN Zambia. God continue blessing you and your families abundantly!!