Updates from the field – by Tamara Lungu
This mail was sent direct from the TTN Ministries ministry team on-site in Africa.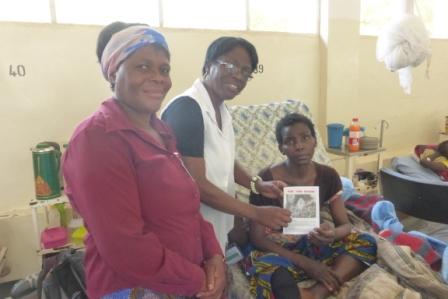 ---
Logistics
Distance to Ministry
Within Kabwe
Cost
N/A
Type of Ministry Church Planting
Hospital Ministry
---
Results
How is the Family?
By the grace of God my parents and I are all fine.
My niece in Livingstone who is unwell – she has a problem with her throat and vocal chords. I traveled to Livingstone to support her as she underwent tests and spent two weeks there. She requires an operation which will take place shortly. I would be grateful for your prayers.
Number Saved?
By the grace of God 100 patients were saved
Number Healed?
Out of 1735 admitted 1391 were healed and discharged by His grace
How many on the ministry team?
We are 30 committed members
What next for this Outreach?
We continue with Sunday ward outreach and follow ups Monday to Thursday.
Staff fellowship takes place each Wednesday lunch time and we undertake home visitation of discharged patients on Saturdays as required.
Testimonials
A young lady in ward 1 (Female general ward) was brought in unconscious due to high blood pressure and diabetes. When she had regained consciousness she gave her life to Christ and immediately the blood pressure normalized and the diabetes was brought back under control.
Another lady in ward 1 who had congestion in the chest and could not sit upright. After giving her life to Jesus Christ she could sit up and the congestion eased.We gave her some Christian literature and she was discharged 2 days later.
Another young lady in ward 2 (female gynae ward) has lower abdominal pain for 2 weeks which caused her to vomit each time she ate. After giving her life to Christ she got well and was discharged the following day.
A young man in ward 6 (male general wad) who had severe fever. After giving his life to Christ he got well..
---
Requests
Financial Requests
Monthly stationary – K200
Monthly talk time – K150
Monthly support – K1000
Prayer Requests
Please pray for God's continued wisdom and knowledge for us as a team and for unity to prevail.
Please also pray that God would meet the needs of patients and their families, both in hospital and once they are discharged.
Please continue to pray for the staff fellowship. We thank God that numbers are improving and are hopeful that this will continue. .
---
Misc
Notes:
The above photograph shows the lady with the congested chest in ward 1 after she had given her life to Jesus Christ. She is pictured with Sister Mary and Sister Tamara
We continue thanking God for spiritual and physical support from our Brethren in Operation Lift Australia, TTN Australia, TTN Zambia and their families. God continue to bring them divine health, divine protection and divine provision