It is great to back on the ground this march As was encouraged to take time of over Jan and Feb I was only in the hospital 2 days/week with Tamara covering the balance for me. I love the opportunity to see God move in people's life especially when they need it most but with this position we are on call 24/7. Just like the doctors bring healing and salivation when it is needed most.
We continued to reach out in the wards. We preached the gospel, prayed for the sick and counseled people.
In ward 3A we prayed for the eleven year old young girl by the name of Mercy who was abused by a work mate to Mercy's mother. This man had carnal knowledge with Mercy and made her pregnant. She was brought to hospital for abortion. The case was brought to our office and we prayed with Mercy. God was need, hope was need. The following day she was taken for review with consideration for abortion but they found no pregnancy. This is tough situation for a young child whose life has been turned upside down not only faced with the trauma but also lifelong consequence of a decision of keeping a life or destroying a life. God knew what was needed and he takes all our burdens.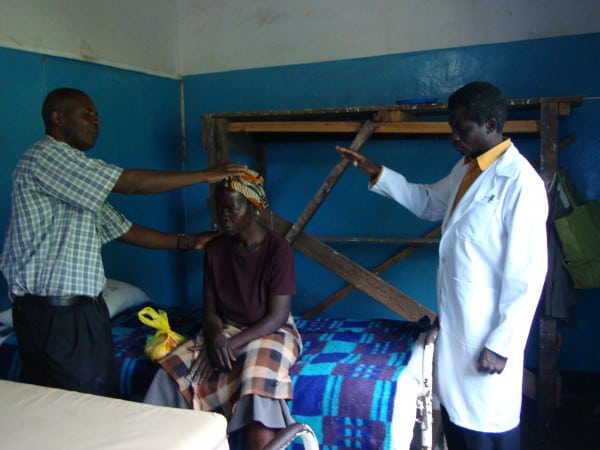 In another incident we prayed for a pregnant woman with labor pains ready to deliver but it was difficult because she was having seizures. But after prayer she had a normal delivery. Again and again God moves.
During the ministry we meet a family that were suffering from what can only be described as curse with regular loss of life in their family chronic disease and preganancey loss. We visited the family in there home in Bwacha township the whole entire family gave their life to Christ and had the curse declared broken.
We visited another family of elderly people in Natuseko. The old man was stricken by a sharp piercing pain in the leg two years ago since then he can not walk. We went and preached the gospel, prayed with the family and assisted them with a wheel chair.
With the vision statement of reaching out Health Institution with the gospel through Partnership and Networking and due to the increase of work in ministry, there was need to partner with local Churches and members of staff through minister's fellowship.
We therefore, have started a fellowship at Kabwe General Hospital which was launched by Minster's fellowship this will give us the ability to minister to the doctors nurses and other staff in their place of work plus provide place of worship for those family members and patients that can't leave the hospital.
During the period of ministry at Kabwe General Hospital in the months of January, February and March 2011, the following were the achieved by the grace of God
| | | | |
| --- | --- | --- | --- |
| MONTH | WEEK | DATE | CONVERTS |
| JANUARY 2011 | 1 | 02/01/11 | 51 |
| | 2 | 09/01/11 | 32 |
| | 3 | 23/01/11 | 37 |
| | 4 | 30/01/11 | 46 |
| | | | |
| FEBRUARY 2011 | 1 | 06/02/11 | 54 |
| | 2 | 13/02/11 | 61 |
| | 3 | 20/02/11 | 35 |
| | 4 | 27/02/11 | 26 |
| | | | |
| MARCH 2011 | 1 | 06/03/11 | 71 |
| | 2 | 13/03/11 | 78 |
| | 3 | 20/03/11 | 48 |
| | 4 | 27/03/11 | 55 |
| | | TOTAL | 594 |